Some of the big names editors includes: Apple Final Cut Pro, Avid Media Composer Ultimate, Davinci Resolve Studio, Adobe Premiere Pro and Vegas Pro. Unfortunatley, we all dont have the large budget to purchase the most expensive video editing software; somehow you can get the similar final touch result with the free editing software.
Main difference between software that is actually free and "Free version" Mostly are demo/trial version of paid software. Mainly the trial version / free version or freeware includes the Royalty as kind of watermark on exported videos, so as to encourge the users to upgrade to full version to unlock the more features and remove watermark.
Free Video Editors that leaves Watermark
If any beginner wants to try the features of high end professional video editors without paying the big price, often you can download a free trail or the demo version of the software. Here are the some of the best software you can try:
Filmora Trial: Filmora is well known for the easiest software that has 7 days free trail along with the Filmora Watermark on all exported videos.
Adobe Spark: Creates the Graphics and Short videos especially for social media and web pages within a span of few minutes.
Vegas Pro Trail: Vegas Pro offers  30-day trial versions of their products (Pro,Edit,Suite) getting you to test the taste of all their feature.
Hence, These are the among the best editors to take the test drive of editing before paying hefty amount.
The Best Free Video Editors that Don't Leave Watermarks
Blender
Windows
Mac
Blender is a free open source video editor and 3D animation/asset creator.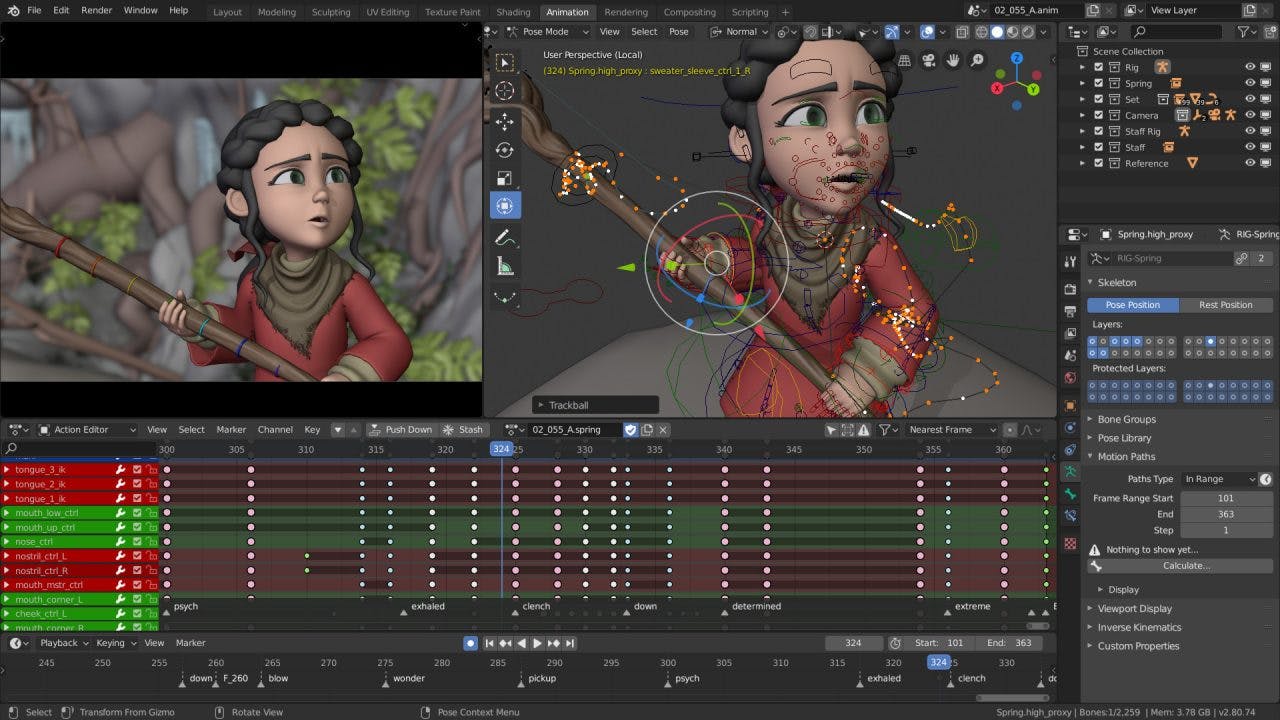 Pros
Highly advanced video editor and 3D animator, open source.
Cons
Not beginner friendly, steep learning curve, over complex for basic video tasks.
Unique Features: High end and Powerfull 3D animation and Design engine.
Recommanded for: Most Advanced user or for the flim industry animation making user.
Lightworks
Windows
Mac
Lightworks is a set of professional video creation program with a simplex user interfaceand support for many file extension (i.e fr eg .jpg,ai) Lightworks is also widely used in the film industries: the films at present produced are The Wolf of Wall Street, Pulp Fiction, Bruce Almighty, The King's Speech and many more. To give the best optimum result the Ligtworks also maufacture their own hardware editing controllers for pro studios.
Pros
Poweful visual effects, simplex and easy customisable interface.
Cons
Playback pauses on everytime you click.
Unique Features: Custom made FX, wide access to royalty free media within software.
Recommanded for: Beginner-Advanced video editors who are starter for their vlog or etc wanting for more than a basic features.
Hitfilm Express
Windows
Mac
Hitfilm Express : is a free extream pro grade video editing program , especially designed for Youtubers, Mass Media Students and any one who is looking to make videos with 0 Budget.
Pros
Easy to use and understand with advanced pro features, adding unlimited sound tracks.
Cons
Unique Features: For Specific upgrade "add-on packs" to meet requirements.
Recommanded for: Beginner-Advanced video editors.
Machete Video Editor Lite
Windows Only
Machete Lite is basic video editor that makes trimming quickly and rearrange videos, This editor is soo basic its suites to noob , but this software cant help more than basic edits and exports.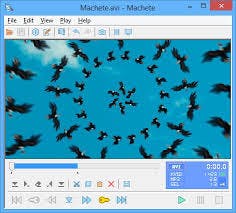 Pros
Easy and Fast, Supports AVI and WMV.
Cons
Very few feature set, no option for any FX or Coloring enchancement.
Unique Features: Very Easy and extream low resource consuption as compared to other Editors.
Recommanded for: Beginner needing for basic edits, suites this program best.
Shotcut
Windows Only
Shotcut: is a free open source video editor with inbuit User interface that gives a efficient touch to media management.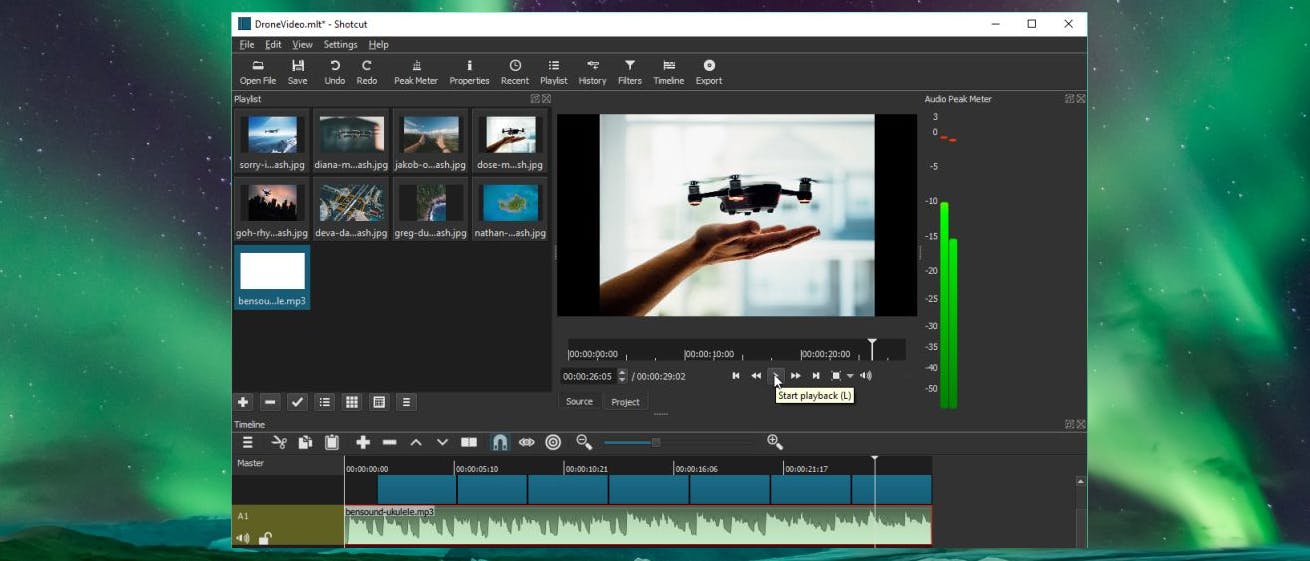 Pros
Very Easy to use, Low resource consuption, mix and match resolution and frame rates .
Cons
Too much basic and limited feature.
Unique Features: Screen, webcam and audio capture.
Recommanded for: Beginner-Intermediate looking for more features.
Davinci Resolve
Windows
Mac
Dacinci Resolve : is a free professional video editor especially popular for coloring tools. Its packed with Fairlightm which is an integrated audio workstation letting one to work with immersive 3D Audio.
Pros
Tons of features for detailed editing, pro workflow.
Cons
Its Require high end machine/GPU. It runs with lags in laptop.
Unique Features: Multi-User Colloboration, 4K video output/input support Foley sampler, Fairlight Audio.
Recommanded for: Intermediate-Advanced editors who mostly crawl for more flexible tools.
Avid Media Composer First
Windows
Mac
Avid Media Composer First : offers basic version "First" of their media composer software. This software feature are limited in comparison to the full version, It will be best for Basic editing and transitions.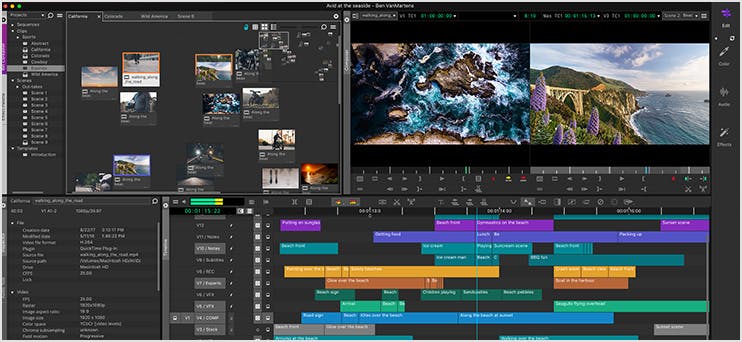 Pros
Advanced and Professional feature, smooth workflow.
Cons
Need High End Machine /GPU, Large Package install Size.
Unique Features: Hardware integration.
Recommanded for: Intermediate-Advanced editors.