Windows
How to change, add & remove search box providers on Internet Explorer 8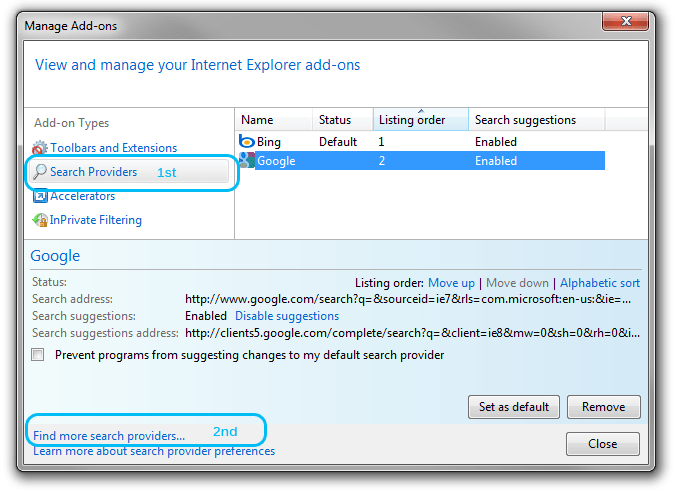 Have you been using Google, Bing or any other favorite search provider in your search box on Internet Explorer 8? And now you've got a new computer or somebody changed your settings and… Guess what? Your search box now has a different search provider.
Today we are going look at how to change default search provider or add and remove search providers in the search box on IE8.
1-  Launch Internet Explorer 8 (IE8).
2-  Look at the top-right in the Internet Explorer 8 window, click the downward arrow as shown in image 1 above (Click 1st), a menu will appear and click Manage Search Providers on the list.
3-  In Manage Add-Ons window, make sure that Search Providers is selected, then click on Find more search providers…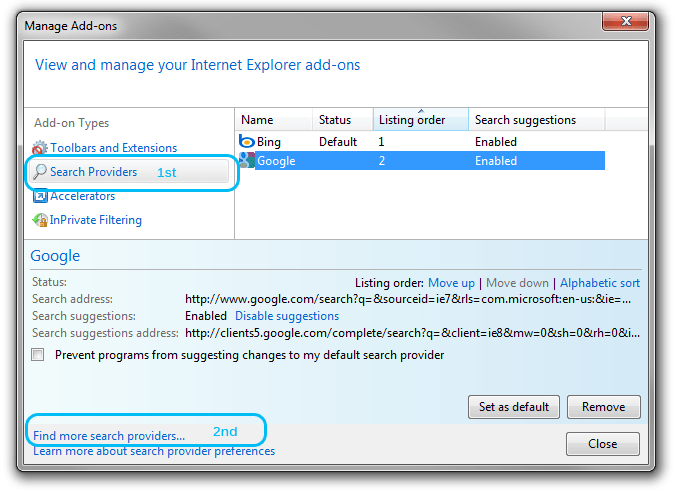 Internet Explorer 8 will open redirecting you to the Microsoft Internet Explorer 8 Add-on Gallery website, feel free to look around and find the search provider that you like.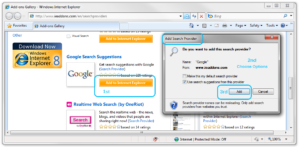 4-  Then, when you find the Add-Ons you want, click Add to Internet Explorer and a new window called Add Search Provider will open. Now, you can just click Add and the default choices will be save or you can choose between:
Make this my default search provider – If you check  this option, you will make the search provider the new default and it will be immediately available. If you leave this option uncheck it will add the new search provider to your list, but it will not be the default.
Use search suggestions from this provider – This option is selected by default and it means that every time that you start typing, it will automatically show suggestions of the partial typing. If you don't like suggestions you can uncheck this option.
You can also change back and forth between providers by clicking the service provider icon and choosing a new service provider.
That is it, you are done!
To remove a search providers follow step 1-2, when the Manage Add-ons window opens, look for the service provider that you don't want anymore, select the name, click Remove, and click Close to finish.
Note that you cannot remove the current default search provider, you need to first select and click Set as default in another provider, before you can remove the first default service provider in question.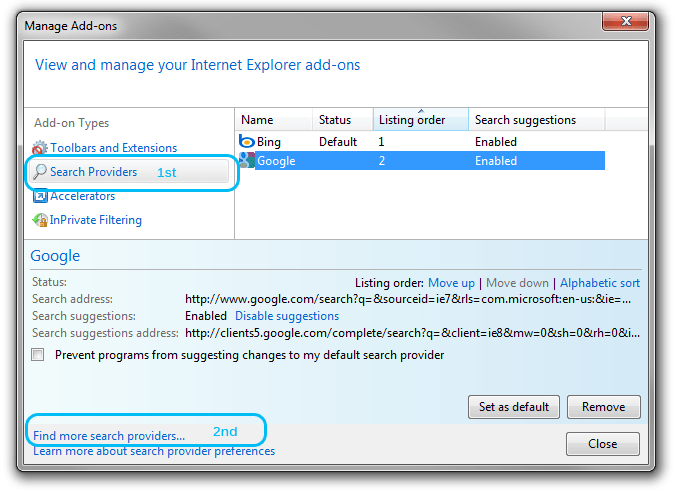 Conclusion
Search providers are very useful because they are easy to set up and can help you to speed up your online search, example: by choosing Google as your default search provider, you can do a search right from your browser without needing to go to the website first to start a search and not only you can use search engines, like Google, Bing; etc. you can also search within your browser other websites like Amazon, Wikipedia; etc.