Tips & Tricks
Wordpress
Best 6 Breadcrumbs Plugins for Wordpress
A breadcrumb is a small text path, usually located at the top of a page indicating where the user is on the site.
Are you looking for best breadcrumbs for your Wordpress enabled site, but yet confused which one is the best, then you are in the perfect blog. 
Using Breadcrumbs on your Wordpress site has best 2 Benefits :
It further enhance the user experience by telling the user on which page they are comparative with the landing page.
As far as SEO, it empowers you to show a breadcrumb trail in the query items, Which makes your site stick out
What are Breadcrumbs ?
Breadcrumbs on wordpress website is a small text path, usually located on the top of the heading page indicating where the is user is om the site.
Hence, user can swiftly goes back to the required category or its tree path.
I will show you qucik example of the breadcrumb with image below.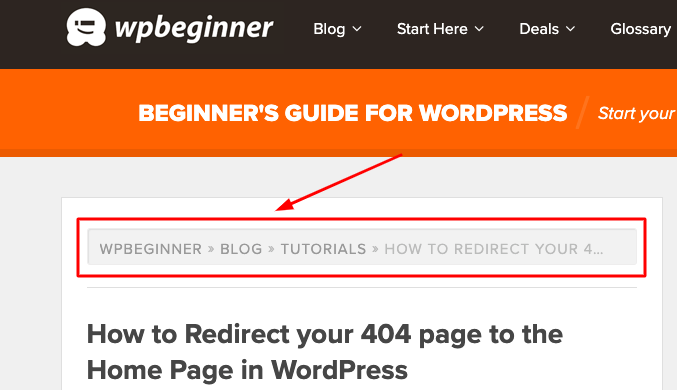 You can see the breadcrumb highlighted (WPBEGINEER » BLOG » TOUTORIALS) its Shows the current path where the user is landed to the required PAGE or POST.
Using this links you easily navigate to any page in same category with out wasting time to search for it or by clicking to Back Button.
Breadcrumb NavXT, the replacement to the mainstream WordPress plugin Breadcrumb Navigation XT, was composed starting from the earliest stage to be superior to its precursor. This plugin creates locational breadcrumb trails for your WordPress Powered blog or site. These breadcrumb trails are profoundly customisable to fits the necessities of pretty much any site running WordPress. The Administrative interface makes setting choices simple, while an immediate class access is accessible for themes designers and more courageous clients.
Features
Supports Schema
BuddyPress Compatible
Supports Multiple Languages
Single Functionality
Pricing: FREE  is available free from WordPress Plugin Repository.

Breadcrumb is simplest and light weight Wordpress plugin to display the breadcrumb navigation to your site, Very simple to customize and change the style for breadcrumb. One can use action hook and filter hook to rewrite the plugin without editing the source code. This plugin almost working on all WordPress pages like archive, category, tags, custom taxonomies, custom post types, default post, date, year, month, author and search page to display breadcrumb dynamically.
Features
Fully Customizable
Translation Ready (Premium)
Easy to use via Short Code
Not for Newbie
Pricing:
The Breadcrumb is available in three premium version:
$9 for a single site license for a year
$39 for up to 10 sites for a year
$69 for unlimited use for a year
Yoast SEO: The #1 Wordpress SEO Plugin and the most popular plugin its usually used to setup the breadcrumb for wordpress website.
To be quick implement the breadcrumbs, go to SEO » Search Appearance » Breadcrumbs. Enable the toggle to setup the breadcrumbs. Once the settings changed from the default, click Save changes to take the effect of changed settings.
Features
Control over Breadcrumb Appearance
EyeCatching UI
Support Schema
Pricing:
Yoast SEO plugin costs $89 and comes with one year of support and free updates.
Rankmath is all in one seo wordpress plugins, consists not only the breadcrumbs feature but along it packed with vast feature of SEO.
The process of setting up is the simplest, simply navigate to RankMath » General Settings » Breadcrumbs. Turn On the toggle to make the wordpress site to get into effect. You will see the pre-setted the setting will appear on your site, later can be changed as per yours requirement.
Features
Easy setup Wizard
Instant Indexing of Site
Integrated with elementor page builder
Pricing:
RankMath offers two range of Premium Package
PRO $59 +Tax
BUSINESS $199 + Tax
Flexy breadcrumb is the easiest plugin to integrate your wordpress site. Its the light weight and get configured directly to your desired location.
Features
Shortcodes
Support for Schema
Optimised Breadcrumb Design
Pricing:
The plugin is widely FREE to use under the Open Source license at WordPress Repository.
WooCommerce Breadcrumbs is a simple WordPress plugin that allows you to restyle the WooCommerce breadcrumbs. It also gives you the ability to disable them completely so they no longer display
Features
HTML Control
Require Exposure of web development
Complete control over breadcrumbs
Pricing:
The plugin is widely FREE to use under the Open Source license at WordPress Repository.